Sunday 31st March,
meet time 10:30
7 mile

Day Walk
Cerne Giant View and the Ridgeway
Walk or event leader: Rod Contact: 07773 106 405 Email event leader
Description:
There's some attractive countryside visible from the A37 off to the east - which prompted this walk. Much of the walk follows the higher ground, including part of the Ridgeway, so ascents are gentle and views are good, though there is one steep climb.
The route includes the Cerne Giant viewpoint and passes within sight of Cerne Abbas and Minterne Magna as well as Up Cerne Manor House, dating from the early 17th century.
There are two stiles on the route, but dogs can bypass both. Total ascent 240m - but only a quarter of this is steep. We can have an optional pub visit after the walk.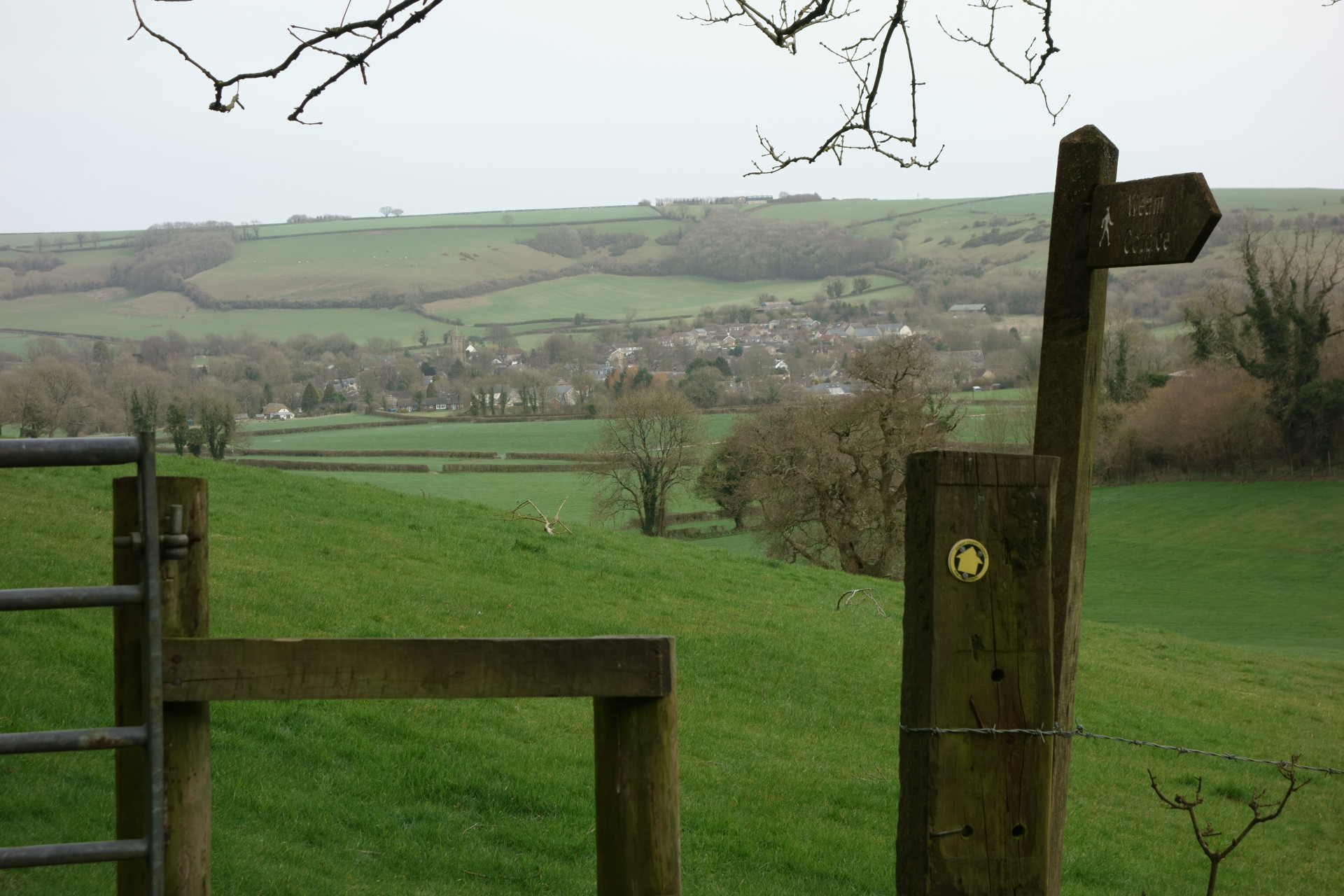 Walks grade: Moderate
Start or meeting point: Hilfield Local Nature Reserve car park (free parking) - this is on a road linking the A352 just north of Minterne Magna to the A37 near Batcombe (Dorset). Grid ref. ST636039. https://gridreferencefinder.com?gr=ST6367003924|Point_s_C|1
Directions: - Google Maps: Search for 'Hendover Coppice Nature Reserve'; the car park is just to the east of the marker. - From the A352, take the road north of Minterne Magna near postcode DT2 7AY signposted Batcombe, The Friary and Evershot. The car park is about 1.5 miles along on the right. - From the A37, take the road just north of King's Restaurant near postcode DT2 9PW signposted Batcombe and Minterne Magna. At the end of the road, turn right signposted The Friary and Minterne Magna. The car park is about 1.5 miles further along on the left.
OS Grid Ref: ST636039 Lat/long (for Satnavs): N50.83399, W-2.51740
Address and postcode for Satnavs (note - this is approximate):
Your postcode or town:
Print this event
Important Advice
Walk gradings are provided as a general guide only. If you have any doubt about your fitness for a particular walk please contact the organiser or leader in advance.
Bear in mind the distance of the walk, regional differences in terrain and the possibility of bad weather, which can make a walk more difficult than planned.
If you're unsure of your fitness level, try a short and easy walk first - it's much better to find a walk a little too slow and easy than to make yourself miserable and exhausted.
Leaders may refuse to accept participants who in their opinion are inadequately equipped or unfit.

What to Bring With You on a Walk
Packed lunch - most walks require you to bring along a good packed lunch as most day hikes over 5 miles will entail a lunch stop of about twenty minutes (or five minutes if it's raining hard!). If the walk has a pub or tea room stop then a full lunch shouldn't be needed, please check the individual walk details for more information.
Proper walking boots and socks - every year a few new people will turn up to longer walks in unsuitable footwear and suffer painful blisters, sore ankles or be forced to get the bus home as a result. Don't let it happen to you - approriate footwear is a must in the rural and rocky terrain that Dorset has to offer, and on any walk that is over 4 miles or has anything more than a 'easy' difficultly rating. Outdoor stores are everywhere now and offer decent ankle boots at affordable prices, so it's easier than ever to get the proper kit on a budget.
Rainproofs - on any walk the weather can turn for the worse, so even if the forecast is clear most members carry a packaway jacket or rainproofs. During the winter a rainproof jacket is a must, and many members also swear by waterproof over-trousars or quick drying outdoor fabrics. Gore-tex and eVent fabrics are perfect if you have the budget!
Mobile phone - a mobile is a good safety device to have with you, even if reception is patchy you can always walk to high ground and try to get a signal if you get lost or seperated from a group walk (which is extremely rare!). Also if you are late for a walk you can contact the Walk Leader and ask them to wait for five or ten minutes, please be aware however that if you are very late the Walk Leader will have no choice but to start the walk.
A print out of the event details - our event start details are optimised for car Satnavs, so you can enter the walk start address, postcodes and even latitude and longtitude coordinates to help you find the walk. The print out will also give you the Walk Leader name and mobile should you run into to trouble on the journey there.
Walks Grading Explained
Easy Access - walks for everyone, including people with conventional wheelchairs and pushchairs, using easy access paths. Comfortable shoes or trainers can be worn. Assistance may be needed to push wheelchairs on some sections, please contact the group running the walk for details.
Easy - walks for anyone who does not have a mobility difficulty, a specific health problem or is seriously unfit. Suitable for pushchairs if they can be lifted over occasional obstructions. Comfortable shoes or trainers can be worn.
Leisurely - walks for reasonably fit people with at least a little country walking experience. May include unsurfaced rural paths. Walking boots and warm, waterproof clothing are recommended.
Moderate - walks for people with country walking experience and a good level of fitness. May include some steep paths and open country, and may be at a brisk pace. Walking boots and warm, waterproof clothing are essential.
Strenuous - walks for experienced country walkers with an above average fitness level. May include hills and rough country, and may be at a brisk pace. Walking boots and warm, waterproof clothing are essential. People in doubt about their fitness should contact the organiser or leader in advance.
Technical - walks for experienced and very fit walkers with additional technical skills. May require scrambling and use of ropes, ice axes and crampons. You must contact the organiser or leader in advance for further details.